Leave Glasgow and make the short journey north to our first stop.

1. The Queen's View

As soon as we drive into the car park a panorama unfolds, a short walk of about 400 yards takes us above the car park and the panorama now becomes spectacular. Loch Lomond framed by a line of peaks as far as the eye can see. (Weather permitting).
2. Glengoyne Distillery
Just 10 minutes from the Queen's View, this picturesque distillery has tours ranging from 30 minutes to 120 minutes.
3. Aberfoyle and David Marshall Lodge
Aberfoyle is a picturesque village and gateway to the Trossachs, Sitting high above the village is the David Marshall Lodge, a place of magnificent views and a cafe.
4. Loch Katrine
A winding road from takes us through scenic landscape to Loch Katrine, a stop that has a choice of activities from complete relaxation to hiking up to a peak. Take a cruise along the 8 mile long loch that is set in the middle of wilderness, there are no towns or villages on its shoreline, just a private tarmac single track for you to cycle on if you chose (electric bikes are available).
5. Stirling
From Loch Katrine we travel through more Highland beauty to Callander and onto our final stop, Stirling, a town dominated by the magnificent Stirling Castle. The area is rich in history with Bannockburn, the site of an epic battle between Scotland and England in 1314. Just outside the town is the astonishing Wallace monument, 220 feet high, a tribute to William Wallace.
Return Glasgow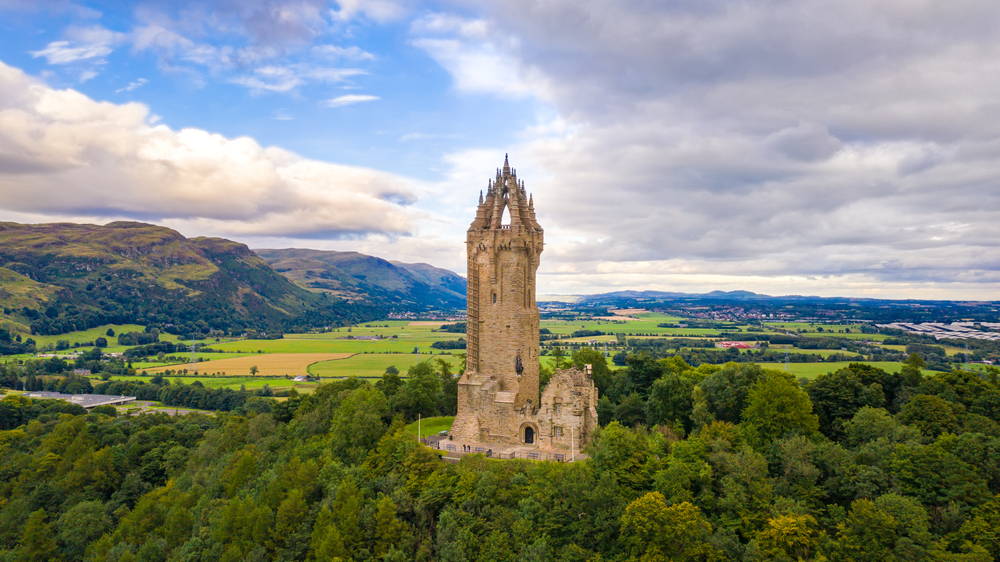 The Wallace Monument, Stirling.
220 feet high, 67 metres. 276 steps
to the top, but well worth the climb.