1. Luss, Loch Lomond
First stop is Luss, a very pretty village situated on the western shore of Loch Lomond. It is one of Scotland's most popular villages to visit. Walk past the sandstone and slate cottages to the pier with have wonderful views up and down Loch Lomond and across the loch to the mountains. From the pier a short walk to the atmospheric church graveyard which has graves dating back to 600AD / 700AD. There is also a Viking grave from 11th century complete with Viking Hogback Stone.
2. Tyndrum
We head north from Luss, travelling the entire length of Loch Lomond, transitioning into a bigger and wilder landscape. Passing through Tyndrum, altitude increases and we arrive at the elevated Loch Tulla viewpoint.
A stop on the edge of Rannoch Moor with an epic view and a place to begin appreciating the scale of the empty landscape.
One of the last wilderness areas in Europe, a vast area of bogs, small lochs (lochans), streams and rock outcrops. There are numerous stopping points where you can walk away from the road and soak in the atmosphere of this remarkable place.


Our drive to Oban is along the shore of the sea-loch (fjord) Loch Linnhe, with very fine views of the spectacular western shoreline, where you can really appreciate the features of a fjord. Oban is a bustling port with a busy harbour with ferry boats and fishing boats, there are plenty of shops, places to eat, especially on the pier where you can eat the freshest of seafood. There is even the famed Oban Distillery in the middle of this lovely small town.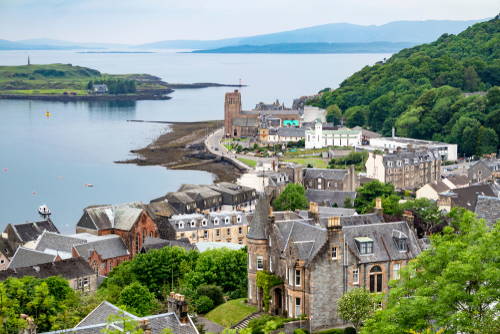 5. Kilchurn Castle.

Built around 1450, this long abandoned castle is so impressive with a magnificent location at the top of Loch Awe. There are Highland Cattle living in the vicinity and hopefully they will be visible and very close to where you view the castle.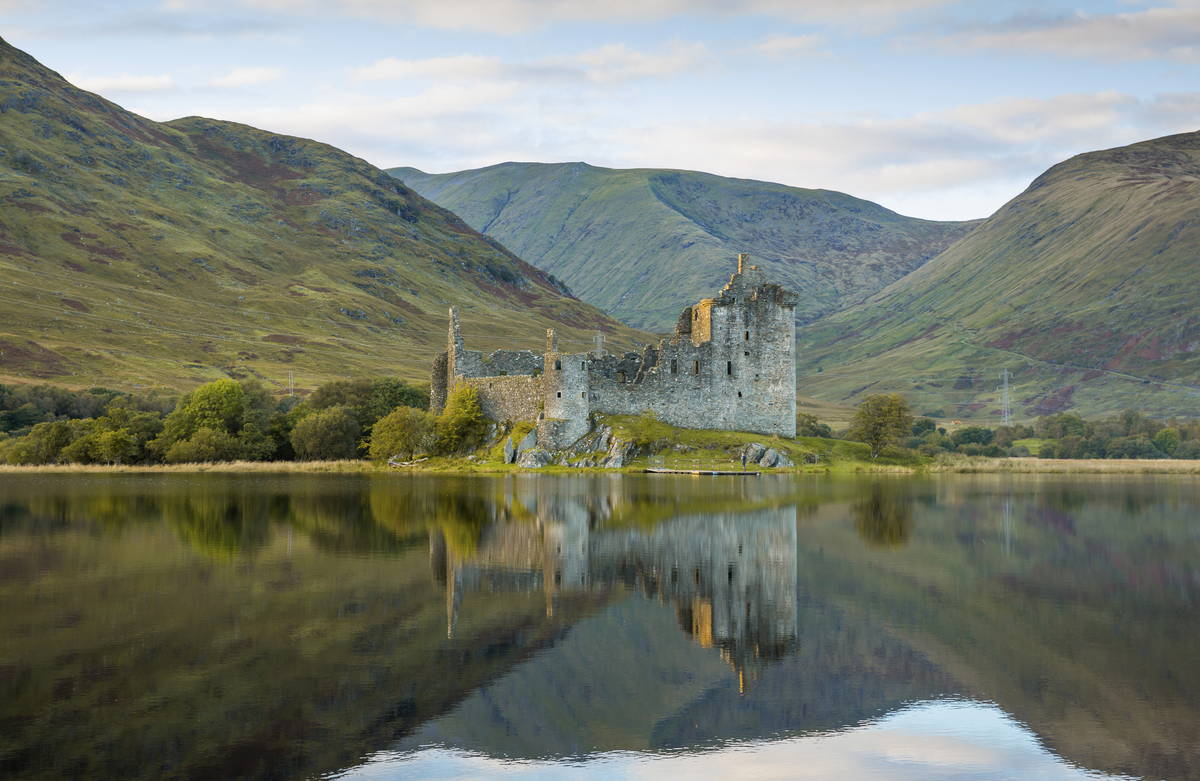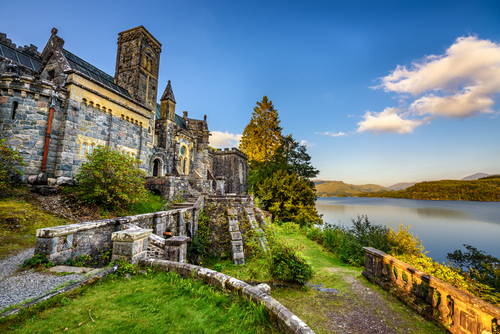 6. St Conan's Kirk
Just 5 minutes from Kilchurn Castle is this very unique and beautiful church perched on the edge of Loch Awe. Described as enchanting, magical and fascinating, a wonderful stop.
Inverary, on Loch Fyne is a lovely village in a grand scenic setting on the western shore of Loch Fyne, as well as strolling in the village, a walk to the picture perfect Inverary Castle is very popular for visitors. There are shops worth browsing for souvenirs, an excellent whisky shop which will let you sample some quality Scotch. There are also some food takeaways, although tour guests love the Loch Fyne Oyster Bar which we pass on our way to our next stop, the take-away fish and chips is the favourite and siting at the outdoor tables with wonderful views of the Loch and Mountains somehow makes them even more delicious.

Another magnificent viewpoint with beautiful views where you can see the old valley road built 272 years ago following the Jacobite rebellion. We then drop down to the head of Loch Long and make our way across to Loch Lomond again, then onto Glasgow.